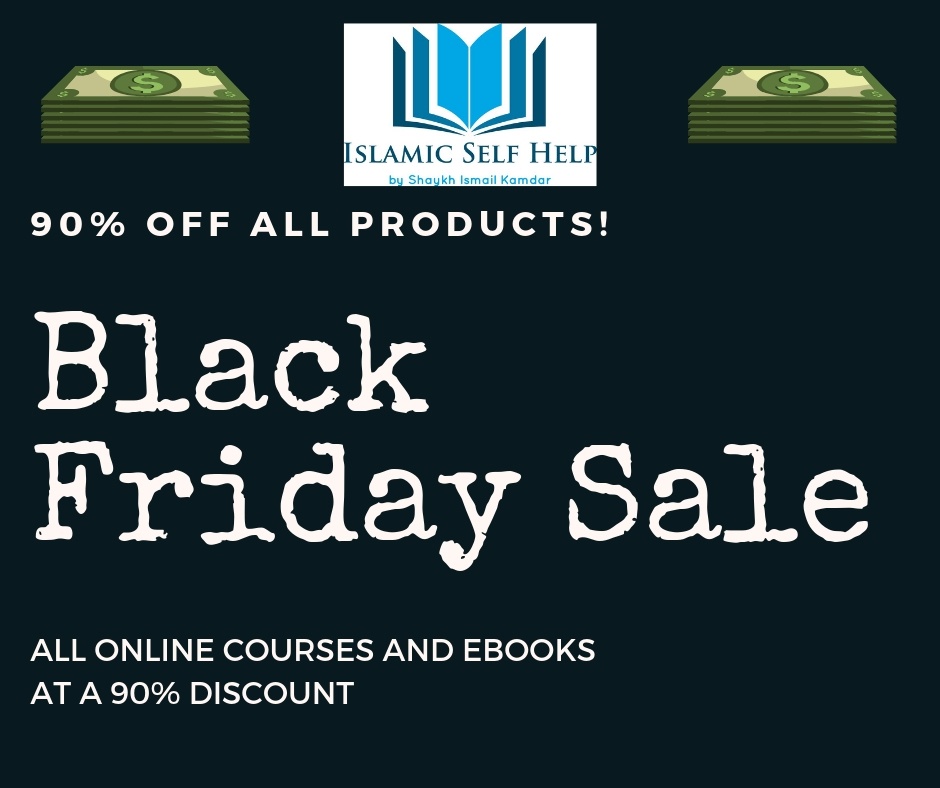 Black Friday Sale: 90% Off All Courses And eBooks
This Black Friday, access the following online self-study courses at a 90% discount:
NOTE: 30 Day Money Back Guarantee on all courses, if they don't fulfill their objectives.
Purchase any of our eBooks at PayHip with a 90% discount by using the coupon: BlackFriday
Reviews Of Islamic Self Help's Products:
"When I say that Ismail Kamdar was, all things considered, the best teacher I had…and one of the best teachers I had the blessing of studying under, I am in no way exaggerating! I really take Ustadh Ismail as a role model in character, patience, as a teacher, and as a writer who extracts productivity lessons from the Quran and Sunnah, and is qualified to do so by his long years of studying and teaching Islam." (Tabassum Mosleh)
"Sheikh Ismail Kamdar is highly professional, dedicated, disciplined and knowledgeable. He is one of the very best tutors…We got excellent feedback on him from his students also. I surely would recommend him!" – Yasmeen Mansoor
"Alhamdulillah, this is the third course I am taking at Islamic Self Help and really enjoying it. I never thought I would have the patience to write a complete book mainly because I didn't know the sequence and details so it is a big help and encouragement for me.
The steps are very detailed, clearly explained and easy to follow and provide valuable information on the whole process of writing and self-publishing. Insha Allah with the help of this course I will be able to publish my first eBook in 2017 and maybe even two or three." – Muna Bushra
90% Off – This weekend only!
Don't miss this opportunity to get every course and eBook at a 90% discount. Available from Thursday, 22 November 2018 until Monday, 26 November 2018. Offer expires Tuesday.
Access the discounts here:
NOTE: 30 Day Money Back Guarantee on all courses, if they don't fulfill their objectives.
Purchase any of our eBooks at PayHip with a 90% discount by using the coupon: BlackFriday
Offer expires Tuesday