The following is an extract from my book
Getting The Barakah An Islamic Guide to Time Management, now available for download!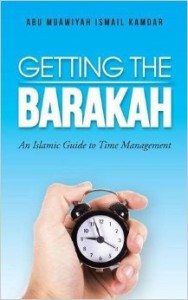 Common Distractions and their dangers
The Email Trap
Schedule specific times of the day for checking emails and social media and for receiving and making phone calls.
Many of us make the mistake of checking our phones, PDAs or PCs at every notification. We want to read every email as soon as we receive it and this is multiplied if you have multiple inboxes and accounts.
There are two major problems that come from this. The first is that it can literally take up your entire day. Every time you are settling into a task, you receive a notification and feel the need to check it out and often reply to it. If you add up the amount of minutes you spend doing this daily, it is literally hours.
The solution is to regulate your communication work into batches. By setting specific times of the day to check each inbox, you will save time in multiple ways:
You will be looking at all of the emails at one time so it does not interrupt other work, and that helps increase the quality of the other work.
You can answer each email faster as it is the task you are focused on in the moment
If multiple emails require similar responses, you can utilize the copy/paste function to save even more time.
It is equally important to decide what time of the days you check your email. A common mistake we make is to check our email at the start of the day. The problem with this is that it dulls the mind as answering email can be a very boring part of your job, and doing so makes it difficult to revive your mental faculties for more creative work later.
Furthermore, if any email contains information that is going to stress you out or affect your mood, it is now going to affect your entire day.
A recent study shows that many of the most efficient people in the world only check their emails around midday. This allows them to get all of their most creative and important work done in the early mornings while their minds are still fresh, and all their emails get answered anyway but without affecting the rest of the workload.
So there are essential two ways to optimize email work:
Work in batches
Answer emails late in the day
The Phone Trap
In addition to emails, today are SMSs, phone calls, voicemail, regular mail, social media notifications, etc. You need to resist the urge to take a call or check your phone at every notification. Instead, close all social media sites and switch your phone to silent while working on important projects. Then check your phone and social media for five minutes every hour.
You will notice that the world did not come to an end in those 55 minutes that you were offline. Instead, you able to get quality work done, and still have enough time to respond to all notifications during those five-minute intervals.
You can also use other methods to get around this. If you can afford to, hire a secretary to take your phone calls and give you a list of phone calls that you need to return at the end of the day. You can also activate Voicemail and just check your voicemail every few hours to find out which calls need to be returned.
Furthermore, when taking a call, do not lose track of time or get lost in unnecessary conversations. Inform the other person that you have five minutes to speak (or whatever you feel is right for that specific call) and then you need to get back to work. This will encourage them to summarize what they need to discuss and will save you a lot of valuable time that is wasted in unnecessary discussion.
Personally, I try to limit conversations by informing people that my preferred medium of communication is email and that they are more likely to get a detailed response to an email, than with a phone call. This way, once people understand this, the number of phone calls you receive is reduced and you will deal with more emails instead. This is actually better, as emails are usually to be point and do not include the amount of unnecessary conversation you will have to deal with during a phone call.
Extract from Getting The Barakah An Islamic Guide to time management, pp. 77-80