The following is an extract from my
Best Of Creation Ebook: An Islamic Guide to Self Confidence, available for purchase here.
Extract from Best Of Creation Ebook:
You Can Do It
Allah does not burden a soul beyond its capacity. It will have [the consequence of] what [good] it has gained, and it will bear [the consequence of] what [evil] it has earned. "Our Lord, do not impose blame upon us if we have forgotten or erred. Our Lord, and lay not upon us a burden like that which You laid upon those before us. Our Lord, do not burden us with that which we have no ability to bear. And pardon us; and forgive us; and have mercy upon us. You are our protector, so give us victory over the disbelieving people."[1]
This is the promise of Allah and it should keep us strong during difficult times. Understand that if All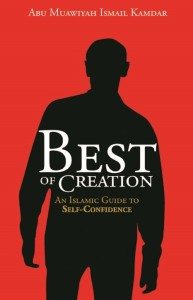 ah has sent a specific test into your life, it is because you have the capabilities to deal with it and pass it.
Allah would not have given you that specific test unless you were the right person to deal with it and overcome it. Remind yourself of this verse every time you are in a jam. There is no test in your life that you don't have the ability to pass, and every human has been given the capabilities to be successful in both worlds.
Reflecting on this verse should give you confidence in your ability to overcome your current predicament. Allah chose you for it, because you have what it takes to deal with it, even if you haven't discovered that yet. This belief should empower us to dig down deep and do our best in every situation.
The Win/Win Formula
The Prophet Muhammad (Peace be upon him) said:
Amazing is the affair of the believer, verily all of his affair is good and this is not for anybody except the believer. If something good befalls him he is grateful and that is good for him. If something harmful befalls him, he is patient and that is good for him[2]
This Hadith is very powerful in helping us embrace this world with all its flaws. As believers, we must look at everything that happens to us as something good. When things go our way, it is a gift from Allah and we should be grateful to Him for it, and this is good for us in both worlds.
When things don't go our way, we must be patient, solution-focused and ready to learn some life lessons through the experience, and that too is good for us in both worlds.
This means whatever happens to us in life is good for us, so why fear living. Go out there and make every day count. Be the best you can be. Accomplish whatever you can and be ready to face any setbacks or trials along the way.
There is no reason to sit at home afraid. Doing so won't hold back the tests but it will hold you back from accomplishing anything worthwhile.
Allah created this world to test us. We are tested with good and with difficulties too. Things are always changing and nothing in this world is constant or eternal. Embrace the nature of this world and you will live a happier life and be able to accomplish more. Do not fear trials, failure or death.
These are all natural parts of our experience in this world and unavoidable. Live each day as if it is your last, but make your plans for doing good deeds being optimistic that you will live a long time. Even if you pass away before accomplishing all your goals, Allah will accept your noble intentions and might even use others to accomplish your goals for you.
[1] Surah Al-Baqarah 2:286
[2] Saheeh Muslim 2999
Extract from Best Of Creation, pp. 56-58, available for purchase here.