How to be the best spiritually
Note: This is part two of our series on How to be the Best. Click here to read Part One.
In the first article of this series, we focused on five Hadiths related to manners and relationships; and how to be the best in that area.
In this second article, we will continue looking at Hadiths about being the best. The focus this time, however, is on the best acts of worship. Islam teaches us to compete in good deeds and to strive to be the best of worshipers. These four hadiths teach us some of things we should focus on in order to achieve that goal.
Salah is the most fundamental act of worship, and the primary physical pillar of our faith. It is the one act of worship we are commanded to do five times a day, throughout our lives, in good health and illness. Due to the central importance of Salah in Islam, all of these Hadiths focus on different aspects related to Salah.
"The best of all deeds is the Prayer at its earliest time."

[Tirmidhi, Sahih]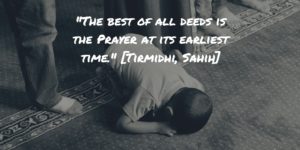 The first important aspect is the timing. Praying fives a time is the most important act of worship that every Muslim must do. It doesn't make you the best of Muslims, it just makes you Muslim.
However, the reward of the Salah is magnified for those who pray it at its earliest time. There are many people who delay Salah until the time is almost over. If we want our Salah to be accepted as the best of deeds, we must make it a habit to pray each Salah at its earliest time.
"The best of places are the Masjids and the worst of places are the markets."

 [Tabarani, Hasan]

Continuing on the topic of Salah, prayer in the Masjid is generally more rewarding for men than praying at home. There is also strong evidence that praying in congregation in the Masjid is Wajib (obligatory) for men. I too believe that when there is no excuse, it is an obligation for a man to pray his Salah at the Masjid.

However, this Hadith has a deeper meaning. This Hadith is really teaching us where we should spend most of our time. The best place that a Muslim can spend time in is the Masjid. Salah, dua, reciting Quran and attending Islamic classes are all acts of worship that are associated with Masjids. In general, time spend in the Masjid is spent building one's Afterlife.

The Hadith compares this with market places (and in modern context, that includes shopping malls). In Islam, markets exist as a necessity of life. We go there to earn a living or purchase necessities. But loitering in such places leads to many problems like attachment to this world, materialism, failure to lower one's gaze and wasting time.

This is why the Prophet (pbuh) called it the worst places. By this, he means that they are the worst of Halal places to be in. Markets are not considered worse than Haraam places like casinos, nightclubs, and places of Shirk. The key point of this Hadith is that we should only go to shops when necessary and should spend more time in Masjids, as this is best for us.

This is the opposite of the common practice today of being in and out of Masjids quickly when needed, while spending long hours loitering in Malls. May Allah guide us all to spend our time wisely and understand what is better for us.
"The best of you are those with the softest shoulders during prayer." [Bayhaqi, Hasan]
A third Hadith on Salah is related to the effect of the Salah on the individual. While Salah must be prayed on time and in the Masjid, its impact on the soul is most important in spiritual development. This Hadith teaches us that the best Muslims are those who are moved by their Salah. The metaphor of softest shoulders refers to a Salah that fills us with humility, Taqwa and Khushoo.
In Surah Al-Muminoon, Khushoo in Salah is also listed as the first quality of the successful believers. This point is emphasized in many verses and hadiths. If we wish to be the best, we must continue to improve the quality of our Salah until it becomes a source of inner peace and guidance for us. This can be done by clearing our intentions, increasing our focus and learning to understand what we recite.
"The best of people in recitation are those who when they recite, you see that they fear Allah." [Bayhaqi, Sahih]
Just like Salah, our recitation of Quran must have an impact on our souls. The best of Muslims are those who are moved by the Quran and whose hearts fill with the fear of Allah when reciting Quran. This applies both in and out of Salah. Regarding the true believers, Allah says, "When His verses are recited to them, it increases their faith," (Surah Al-Anfaal 8:2)
So to be the best, the quality of our Salah and Recitation matter. We cannot rush through Salah or recite Quran ritually. We must do it sincerely for Allah's sake and in a manner that brings us closer to Allah.
In order for our recitation to have this impact, we must choose a time when we are free from distraction, clear our intentions, understand what we are reciting and reflect on it. These steps will help develop our connection with the Quran.
More Hadiths on being the best coming soon…