Now Available: The First Islamic Self Help Fiction eBook
Alhamdulillah, I am really excited to announce the launch of my first Islamic Self Help fiction eBook: Ahmad Climbs A Mountain. I spent the bulk of 2017 writing, editing, and improving this one book.
The idea for this book actually came to my mind on a Jumah morning. I immediately sat down, and started mind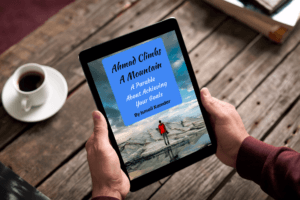 mapping it. So I am really excited to launch it on a Jumah morning six months later.
This book is a new style of writing for me, and so far, the reviews I received from test-readers have been really positive. I'm really excited to know what you think of the book too.
I decided to frame my entire self help system for achieving goals as a fictional story. This new method led to the formation of this exciting tale of a young boy climbing a mountain.
Through the story, you will learn everything you need to know about setting and achieving goals.
Where is it available?
The eBook is currently available at Amazon Kindle, Gumroad and Payhip. You can even get a preview of the first chapter for free at Amazon. The links are listed below:
Gumroad – https://gum.co/Ahmad
Payhip – https://payhip.com/b/PmQ5
Kindle – https://www.amazon.com/Ahmad-Climbs-Mountain-Parable-Achieving-ebook/dp/B07542M4M4
FAQs about the book:

Q: Isn't fiction Haraam?
A: No, Fiction is not Haraam. It is the content that matters. A beneficial fiction story is Halal, and is considered an extended metaphor/example/parable. Fiction is not considered lying as there is no attempt to deceive anybody.
Q: Is the book for adults or children?
A: The book is written primarily for young adults who are working towards their life goals. However, people of all ages can enjoy and benefit from it.
Q: Is the book available in paperback?
A: Not at the moment. It is only available as an eBook for the foreseeable future.
Other eBooks by Islamic Self Help
Getting The Barakah – Islamic Self Help's premiere eBook. Getting The Barakah focuses on Time Management tips and techniques.  All of which are grounded in Islamic principles. Furthermore, It is currently our fastest selling eBook. Get your copy here.
Best Of Creation – An Islamic Guide to Self Confidence. This exclusive eBook will show you how to build your confidence. It will also teach you to overcome your fears, redefine your mistakes, and step out of your comfort zone.
Every principle in this book is grounded in Islamic teachings. This eBook will help you grow in both confidence and spirituality. Click here to purchase.
Discover Your Hidden Gems – Islamic Self Help's first workbook. This workbook contains six activities designed to help you discover your strengths, weaknesses and to set your goals accordingly. Get started today!
Homeschooling 101 – Learn about this alternative method of education with our exclusive eBook. In this eBook, discover ten reasons to consider homeschooling. We have included a step-by-step guide to getting started. Zohra Sarwari provides an exclusive foreword to the eBook. Buy it by clicking here.
Themes of the Quran – This unique eBook summarizes the core theme of each Surah of the Quran. This eBook is divided into 30 chapters, each summarizing the themes covered in one Juz of the Quran. Get your copy today and gain a deeper understanding of the Quran.
Visit our ebook store for our full range of Islamic books!