Coming Soon…
Islamic Self Help presents Shaykh Ismail Kamdar's first fiction book: 'Ahmad Climbs A Mountain: A Parable About Goal-Setting'. (coming soon…launching end of August 2017)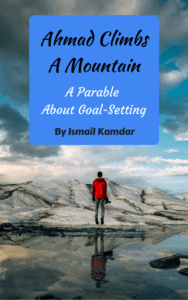 Ahmad Climbs A Mountain will tell the tale of a young boy from a village in a valley with a high goal. He dreams of climbing a mountain, escaping the valley, and exploring the world on the other side.
What To Expect
This story will focus on Ahmad's journey and the challenges he faces along the way. Climbing the mountain will not be easy, Ahmad will have to face many perils. He will have to deal with family and friends trying to discourage him. He will have to deal with internal struggles like self-doubt, fear, and lack of confidence. And he will have to overcome physical challenges too.
Ahmad's journey will not be easy. Through it, he will learn, grow, and evolve into a better man. Will he accomplish his goal and find what he is looking for? Read the full book to find out!
A Parable
The story is written as a Self Help Parable. Through it, the author hopes to get readers thinking about their own goals and their own challenges. By looking at how Ahmad deals with each challenge along his climb, readers can learn valuable lessons on how to deal with their own obstacles and achieve their own dreams.
Release Date…coming soon
The eBook will be available before the end of August. We will be announcing the launch date very soon. The eBook will be available at Islamic Self Help, Payhip, Gumroad, and Amazon Kindle.
A paperback version of the book is currently in development, but may take much longer to produce. Most likely, it will be released in early 2018, if we find a good publishing partner in time.
Ahmad Climbs a Mountain will be a groundbreaking release for Islamic Self Help, expanding our range of books from self help tips and workbooks into a new realm: Self Help Fiction. Stay tuned for more details coming soon…
Check out Islamic Self Help's full range of eBooks here.