The Ramadan Zeal
Ramadan is no doubt a special time of the year. With the devils locked up and the gates of Paradise wide open, people are motivated to go the extra mile in doing good deeds and being our best selves. This high spiritual momentum is temporary and for many people, it is gone the day Ramadan ends.
Now, to expect to maintain the same level of spirituality outside of Ramadan is not realistic. Ramadan is a special environment and outside of it, we can't be the same. However, this does not mean we should not try.
The key to maintaining spiritual momentum post-Ramadan is to set realistic ideas of what you can do and to focus on those few things. Here are a few steps to help you figure out what to focus on.
5 Steps for maintaining spiritual momentum post-Ramadan
To keep this as simple and as practical as possible, I will focus only on five steps. These are the five simplest steps to keep our Imaan strong after Ramadan, and also the most important.
1. Continue reciting Quran
The first step to maintaining momentum is to continue growing in your relationship with the Quran. If you were readi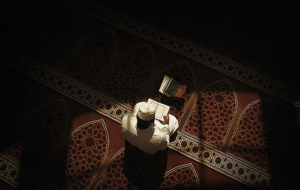 ng a Juz a day in Ramadan, continue reading at least 2 pages a day.
If you were listening to a one hour Tafseer a day during Ramadan, continue listening to 15 minute Tafseers after Ramadan.
Whatever you were doing, keep it going even if it is less. The key is to stay connected to the Quran. It doesn't matter how little you are doing, what matters is that you are doing something on a daily basis, so you grow in your closeness to and understanding of the Quran with each day.
"The best of you are those who learn the Quran and teach it." (Sahih Bukhari 4739)
2. Fast the six days of Shawwal
This is a tough one for many of us, but the rewards are great. Fasting is Ramadan is easier as everybody is doing it. Fasting so soon after Ramadan requires great will power and determination.
The reward of fasting the month of Ramadan plus the six days of Shawwal is equal to fasting an entire year. That alone is motivation. Add in the spiritual benefits of fasting and this will definitely help you stay on track after Ramadan.
"Whoever fasts the month of Ramadan and then follows it with six days of fasting in the month of Shawwal, it will be as if he had fasted the year through." (Sahih Muslim 1163)
3. Be realistic is your self-expectations
Sometimes we expect too much from ourselves. We expect to be sinless and perfect from this Ramadan onward until the day we die. And when it doesn't happen, we lose hope and fall back into our own lifestyles. The way to Paradise is not through being perfect. It is through sustained daily growth.
Be realistic and set high goals for yourself. But don't be too hard on yourself when you don't always attain those goals. You are human. You will err, you will make mistakes, and you will grow from each experience. Focus on being on your best, not on being perfect. At the end, if you sincerely try your best, Allah will forgive the rest.
Aisha reported: The Messenger of Allah, peace and blessings be upon him, said, "Be deliberate in worship, draw near to Allah, and give glad tidings. Verily, none of you will enter Paradise because of his deeds alone." They said, "Not even you, O Messenger of Allah?" The Prophet said, "Not even me, unless Allah grants me mercy from himself. Know that the most beloved deed to Allah is that which is done regularly even if it is small." (Sahih Al-Bukhari 6099, Sahih Muslim 2818)
4. Repent Often
We all make mistakes. We all fall into sins. We all have our faults. The difference between a righteous person and an open-sinner is not the lack of sin. It is the concealment of sins and consistent repentance. After Ramadan, you may fall back into some sin or another that you had before Ramadan.
When this happens, do not lose hope. When this happens, do not give up. When this happens, do not let Shaytaan win. Get back up and try again. Repent, and never lose hope. Because you worship Al-Ghafoor (The Most Forgiving), Ar-Raheem (the Most Merciful).
"I swear by Him in whose hand is my soul, if you were a people who did not commit sin, Allah would take you away and replace you with a people who would sin and then seek Allah's forgiveness so He could forgive them." (Sahih Muslim 2687)
5. Prioritize the five daily Salah
I left this for last as it is the single most important piece of advice in this article. No matter what happens. No matter how spiritually low you feel. No matter how much you want to give up. Never, ever, abandon your five daily Salah!
These Salah are your connection to Allah. Your means of forgiveness. Your ticket to Paradise. Your daily conversation with your Creator. Your hope during tough days. Your peace during sad days. Your reminder during good days. And your evidence that you believe in Allah. If nothing else, at the very least remain firm in praying five time a day once Ramadan has passed.
"The first matter that the slave will be brought to account for on the Day of Judgment is the prayer. If it is sound, then the rest of his deeds will be sound. And if it is bad, then the rest of his deeds will be bad."(Al-Tabarani)
These five tips will hopefully help you maintain your momentum throughout the year. May Allah forgive our faults and accept our deeds.
Don't waste time. Learn time management the Islamic way with our bestselling eBook: