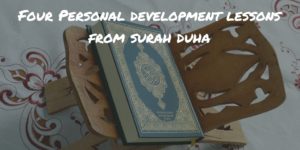 Lessons from Surah Duha
Surah Duha is considered one of the earliest Surahs to be revealed in Makkah. It was revealed at a time which the Prophet (pbuh) faced great emotional stress regarding the future of Islam. The core theme of this Surah is one of hope and optimism. This makes it an excellent Surah to analyze for personal development lessons.
Translation of Surah Duha
By the morning light
And by the night when it darkens
Your Lord has not forsaken you, nor is He displeased
And what is to come is better for you than what has passed
And soon Your Lord will give you and you will be pleased
Did He not find you an orphan, and He gave you a family?
And He found you wondering, and granted you guidance
And He found you in need, and enriched you
So as for the orphan, do not mistreat him
And as for the beggar, do not repel him
And as for the blessings of your Lord, then proclaim
Lesson One: Be Optimistic
This is the core theme of this Surah and as such, it is the primary lesson of this Surah. As Muslims, our approach to life must be one of optimism. We are not meant to be a pessimistic people. Rather, we must live our lives with hope in Allah's Assistance and Mercy.
Every project we undertake must be fueled by optimism and hope. We must trust that Allah will help us eventually, if we are sincere and if the project is beneficial for the ummah. It is this attitude that should drive us forward.
Lesson Two: Be Grateful
In order to maintain optimism, this Surah also reminds us of the times in the past when Allah assisted His Messenger (peace be upon him). In our own lives too, there are many times in the past when Allah granted us success and turned around a bad situation.
We must reflect on such times, be grateful for them, and use them as further motivation to maintain optimism that Allah will continue to assist us moving forward.
Lesson Three: Be Charitable
A believer's goals are not selfish and materialistic. Our goals should revolve around the ummah, and one way to build this is to become people of generosity. Generosity fuels the Muslim world and causes everybody to grow. The generous person is blessed by Allah, and his wealth multiples because of it. The one who receives the charity also is blessed and now has some money to move his own life forward.
Charity is a Win/Win situation. Everybody benefits and everybody grows. This is what believers should may for. We must avoid paths and goals that make us selfish and materialistic. Our focus must remain on serving others, and that begins by being generous.
Lesson Four: Contribute to society
Generosity must lead to an ummah-centric personality. A Muslim's goals should be goals that uplift and benefit the ummah. Every project should aim at benefiting others. If our primary goal is to assist the ummah, then Allah will put Barakah in our efforts, businesses, wealth and time. Service should drive us forward, as we are one ummah and we all want to see this ummah rise up in greatness again.
Bringing it all together
Be positive about the future, remember Allah's blessings on you in the past, be generous and serve the ummah. These are some of the lessons we can extract from Surah Duha, and these concepts will drive us forward with Ihsaan (excellence) as an ummah.
For more Tafseer, check out our eBook below: